WIN MARK LINDSAY'S PONYTAIL!
Plus a Gang of Other Gorgeous
Goodies from Mark Himself!
YOU SAW IT with your own eyes on Where The Action is (if you were lucky) and now it can belong to you! What? Mark Lindsay's ponytail, that's what! Last July 20th, while Mark sat on a pier by the docks in Monterey, Calif., and belted out the Raider's big hit, Hungry -- Revere, Fang, Smitty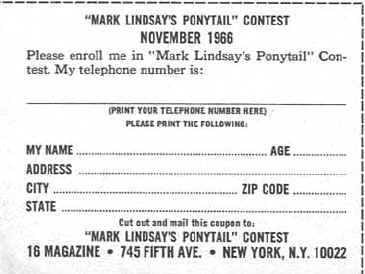 and Harpo besieged the unsuspecting serenader and clipped off the end of his world-famous ponytail!
Teenagers all over America let out a simultaneous shriek (and some fainted dead away), but no one was the worse for it as Mark has gangs of hair and there was plenty enough to take two big whacks out and still leave that noble "queue" of his intact. When Revere sharpened his scissors to take a whack at Mark's locks, he decided to make it two whacks! One piece of Mark's ponytail, as you know, was "auctioned" off on Action, and the other piece was flown straight to 16 Magazine by Mark himself -- along with a groovey little note from him verifying that this lock of hair indeed is legitimately from his very own ponytail!
So how'd you like to have that lock and that handwritten note from Raider Mark Lindsay for your very own? And that ain't all, sweetheart -- Mark (who is famous for making surprise phone calls to his fans) will also call you personally to chat with you on the phone, will send you a big autographed picture of himself, and will give you a bonus gift of a full year's free subscription to his very favorite magazine -- that's 16, natch!
By this time you're undoubtedly in a tizzy with wanting to know just what you have to do to get all these wonderful gifts, right? Well, don't fret, pet. All you have to do is print your name, address and your telephone number (so Mark will know where to call you) on the coupon -- then cut out the coupon and mail it to the address on the coupon.
Every coupon will be dropped inside a barrel. The barrel will then be revolved and 16's editor, Gloria Stavers, blindfolded, will pick one coupon from the barrel. The sender of that coupon will be the winner -- and will be awarded all of Mark's fantabulous prizes!
Don't just sit there! Grab a pen or a pencil and fill in the coupon and zoom it off right away!